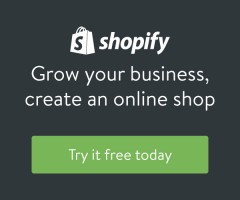 S
hopify is a complete ecommerce solution that allows you to set up an online store to sell your goods. It lets you organize your products, customize your storefront, accept credit card payments, track and respond to orders - all with a few clicks of the mouse.
Shopify combines robust management tools, industry-leading hosting, powerful apps, and a thriving developer community into a fully-featured and flexible platform.
Shopify is both the site where your customers will shop, and the site you will go to manage your store. Your Shopify website will provide all of the pages and features that you expect in a modern ecommerce site, along with a backend admin site that gives you a protected area to manage your site, manage customer orders and payment, control product inventory, and so much more that will help you build a successful business.
I offer complete design, development and maintenance services, or just consulting (i.e. coaching and training) on Shopify features and functions.
My hourly rate is $65.00 per hour with time spent based on your design and functionality requirements and rather than offering "package deals", I customize my services to your requirements, so just
contact me with your project specifics
.
I will say up front, that I am brutally honest when it comes to this gig — to not be will get us both nowhere. I pride myself on working with people who are business savvy, understand the value that my services & vast experience bring to the table, and will invest in their business accordingly to have it "done right" by a professional... especially in today's ultra-competitive market.
There are many elements to a successful Web presence, and all of those need to be in place, and budgeted for, to insure any level of success online. Operating an online business is not cheap and easy and actually nothing is further from the truth. You will get out of your Web site proportionally what you put in to it — both from a financial investment standpoint to the time and resources you dedicate.
Whether you are looking to get your Shopify Store up and running, or need work on your existing Store, my services include, but are not limited to:
Site set-up & configuration
Template (Theme) installation and modifications
Install and configure "Shopify Apps"
Product spreadsheet creation and maintenance, including product images
Ongoing site maintenance
Incorporation of value added or Blog post content that you supply
Detailed customer service page for perceived business creditability
Enhanced privacy & security policies covering everything from cookies to encryption
Configuring your site to include confirmation emails, status update emails, shipping costs, international rates and taxes
Effective guidance on social media & search engine optimization, registration and marketing
Insuring that all of the elements are in place for perceived business creditability
Coaching and training on Shopify features and functions
Shopify Pricing & Features
Basic
Sell in your own online store, on social media, and in person with Shopify POS.

$29.00/month
Ways To Sell

Facebook
Shopify Buy Button
Point of Sale
Online store
Pinterest
Twitter

Credit Card Rates

Online: 2.9% + 30 cents
In Person: 2.7% + 0 cents

Transaction Fees

Using Shopify Payments: none
Using external payment gateways: 2.0%

Features

Unlimited Products
Unlimited File Storage
Good Shipping Label Discount
24/7 Support
Fraud Analysis
Manual Order Creation
Discount Codes
Website and Blog
Free SSL Certificate
Pro
Basic features + enhanced reports, analytics, and lower transaction fees.

$79.00/month
Ways To Sell

Facebook
Shopify Buy Button
Point of Sale
Online store
Pinterest
Twitter

Credit Card Rates

Online: 2.6% + 30 cents
In Person: 2.5% + 0 cents

Transaction Fees

Using Shopify Payments: none
Using external payment gateways: 1.0%

Features

Unlimited Products
Unlimited File Storage
Good Shipping Label Discount
24/7 Support
Fraud Analysis
Manual Order Creation
Discount Codes
Website and Blog
Free SSL Certificate
Gift Cards
Professional Reports
Abandoned Cart Recovery
Unlimited
Pro features + the lowest transaction fees and real-time carrier shipping.

$299.00/month
Ways To Sell

Facebook
Shopify Buy Button
Point of Sale
Online store
Pinterest
Twitter

Credit Card Rates

Online: 2.4% + 30 cents
In Person: 2.4% + 0 cents

Transaction Fees

Using Shopify Payments: none
Using external payment gateways: 0.5%

Features

Unlimited Products
Unlimited File Storage
Good Shipping Label Discount
24/7 Support
Fraud Analysis
Manual Order Creation
Discount Codes
Website and Blog
Free SSL Certificate
Gift Cards
Professional Reports
Abandoned Cart Recovery
Advanced Report Builder
Real-time Carrier Shipping